Fast Track Room Booking is available to staff and customers anywhere. Fully permission controlled, it will save your staff time, by automating meetings, conferences, hot-desks, catering, A/V equipment, visitors and more.
CLICK HERE to request FREE DEMO/WEBINAR Details, and let us know any Questions you have.
Fast Track Room Booking
has a low start-up cost, and contains the everyday and advanced mechanisms needed to automate all booking processes. The
Cloud Room Booking System
will inexpensively provide Self-Service enquiry or booking access for your staff and customers (as you allow), increase your room utilisation % and reduce your costs.
To find out more, click the
PDF
,
Movie
and
Download
buttons on this page, or
Request a FREE Demonstration
. Key aspects:
Manage rooms, desks, spaces, catering A/V, front desk and more
Self-service empowers staff and service providers
Dramatically increase the utilisation of your space and rooms resources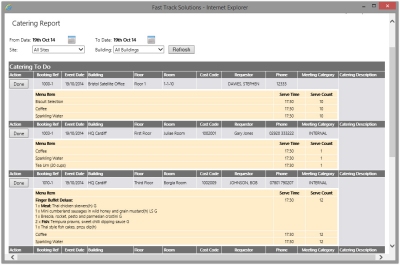 Fast Track Room Booking also provides Real Time Access for Service Providers. No longer will you be limited to a daily catering, visitor or A/V instruction print out. Whether service providers are on your staff or external contractors, they will have live access to full requirements details, and will be notified to check their views when there are last-minute changes.
Utilising Email and Text notifications, Fast Track Room Booking keeps applicable staff members and service providers up to date on all aspects which concern them. Fast Track Alerts reminds staff when bookings are approaching, and also reminds them to cancel in a timely way if the booking is no longer needed.